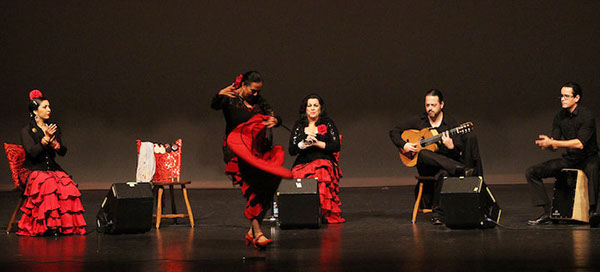 photo: courtesy Laredo Community College
Solero Flamenco, Houston's premier flamenco performance company, presents vibrant performances with artistic integrity and trademark passion. Soulful song, enchanting guitar and exhilarating dance converge in this highly improvised art form to present traditional, contemporary and original works. Whether in the theater, concert hall, or other venues, audiences experience the heart, soul and skill of professional flamenco artists.
Under the artistic direction of Irma La Paloma (cante) and Jeremías García (guitarra), Solero Flamenco maintains an active performance calendar and enjoys collaborating with local and international artists. As founders and directors of the Houston Spanish and Flamenco Festival in collaboration with San Jacinto College and the Consulate General of Spain in Houston, Solero Flamenco promotes flamenco arts, education and culture.
©2015 Solero Flamenco
3139 W. Holcombe Blvd. PMB #195
Houston, TX 77025