Performances..
Solero Flamenco Wednesdays!
7- 10pm
Mi Luna
Rice Village
2441 University Blvd
Houston, Tx
Fridays Downtown!
Solero Flamenco
Tablao
8-11pm
Andalucía Tapas
1201 San Jacinto
Houston, Tx
Join our mailing list...
For upcoming performances
visit...
Join our Facebook friends...



Dear friends,
The first half of 2010 is nearing its mark and brings forth the continuation of a great flamenco year. Workshops and festivals abound providing opportunities for education and training closer to home, as well as opportunities to attend performances by renowned flamenco artists from Spain and the U. S.
We are enjoying a busy performance calendar at home base in Houston and thank all of you who inspire us with your support and comments. We are excited about upcoming events and productions and remain committed to presenting you with quality, vibrant, and heartfelt flamenco.

Abrazos,

Irma La Paloma and Jeremías García El Valiente
Solero Flamenco

Cante y Letra Irma La Paloma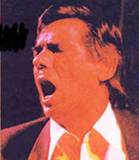 Antonio Nuñez Montoya, El Chocolate
(1930-2005)
What is "Cante Jondo"or deep song?

"Cante jondo is the universal offspring of singular characteristics born of the marriage of the gypsy people and natives of the Andalusian region."
C. Arbello.
This melancholy song described as raw, intense in content and delivery, requires experience, dexterity, honest treatment and understanding by the singer. The lyrics center on death, solice, and despair. When delivered in form, and particularly by a singer possessing "una voz afillá or rajá" or coarse voice, this cante can bring the attentive listener to tears. I confess shedding more than a tear when listening to Naranjito de Triana's Saetas.
"The term "jondo" is said to be the result of a misspelling or phonetic adaptation by Andalucians of the Spanish word "hondo" meaning deep. M. J. Khan (1897-1953), attributed the origin of the term to a mispronunciation of "jom-tob or yom-tob" or a Hebrew term for ancient songs of lament.
There are three categories which are generally referenced in flamenco cante: Cante Grande or Jondo, Cante Intermedio, and Cante Chico. Each bears importance in flamenco's evolution and practice. However, it is the Cante Grande or Cante Jondo, with its anguish and unique vocal characteristics that stirs the deepest of human emotions and is considered the soulful essence of flamenco.
Tonás, Martinetes, Siguiriyas, Deblas, Saetas, Carceleras and Soleares are among the flamenco rhythms under Cante Jondo, (The Art of Flamenco, D. E. Pohren.) These cantes were originally performed without guitar or "a palo seco." The Spanish composer Manuel de Falla (1876-1946) considered the gypsy siguiriya the purest among the primitive cantes and perhaps the defining song of Cante Jondo.
In his book Historia del Cante Flamenco, flamencologist Angel Alvaro Caballero states that a true singer of cante jondo must give in to profound emotion. "The singer who sings siguiriyas leaves in each line of the copla a piece of his soul; and, if not, he is deceiving the listener, perhaps even himself."
In summary, "cante jondo" is not a term to be used lightly "por respeto al cante" or out of respect for the song. It is a term reserved for the most genuine, "unspoiled style of Andalusian folk song" interpreted by the cabales or more experienced flamenco cantaores (singers).
A few examples of these cantaores are La Paquera de Jerez, Terremoto, Manolo Caracol, Fernanda de Utrera, Naranjito de Triana, and contemporaries like Fosforito, José Menése, Enrique Morente, El Torta, Camarón, El Indio Gitano and Miguel Poveda to name a few.
You can listen to cante jondo in Antonio Nuñez Montoya's, El Chocolate's Siguiriyas in his last recorded album - Mis 70 Años Con El Cante -for which he was awarded a Grammy in 2003.

Improvisation Jeremías García
What does it mean to improvise? This is an aspect of performance that for many is mysterious and often misunderstood. As a professor of music, I am frequently asked this question by the casual listener as well as the serious music student. The answer to this question involves four basic concepts integral to improvisation that the artist must comprehend in order to effectively express him or herself.

1. Knowledge of Structure
2. Development or Practice
3. Collaboration
4. Intuition
This article, the first in a series of four, will deal with structure.
Structure is a blanket term that encompasses many aspects of performance from the smallest building blocks to the presentation as a whole. Flamenco's elements are compás, melody, harmony, rhythm, phrasing, poetry, technique and ultimately, the organization of all these elements in time. Therefore, improvisation is not spontaneous invention from a void. It is a development of ideas based on a particular set of guidelines. Even the American Blues musician, who is known to play what he feels, is following a set of well established conventions. For example, the most common structure of a blues song is as follows:

1. The rhythmic structure is twelve bars of music, collectively known as a stanza and chorus, in 4/4 or common time with accents on the second and fourth beats.
2. The harmonic structure consists of 3 Chords - I7, IV7 and V7 that appear in a specific pattern.
3. The text appears traditionally in a rhymed couplet, or aab, where the first line is presented in the first four measures, the second line in the second four, and the third line in the final four measures.
4. The "blues scale" (which is a minor pentatonic scale with an added flat 5th scale degree) is a 6 note scale that serves as the basis for the melody of the song as well as the instrumental improvisations.

While many readers may not be musicians or fully understand the explanation of the blues, my intention is to illustrate how structured that music actually is. The first analysis of the blues did not come from the blues musicians themselves - they did what came naturally and achieved an identifiable genre and quality. It was the music theorist who identified and applied the analytical terminology; however, every blues musician, even without formal training, knows how to speak the language. This common language enables two or more previously unacquainted musicians to collaborate. The same can be said for flamenco.
In the most highly improvised type of classical music, known as Chance Music, a structure exists. Let's take a look at John Cage's 4'33" for piano, one of the most famous examples of chance music. John Cage "wrote" this piece of music to illustrate the fact that music is all around us. The pianist enters the stage and sits at the instrument with his printed copy of 4'33" which is actually completely blank. The pianist surprisingly sits quietly while the ambient noise of the recital hall is revealed to be the actual music. The result is a piece of music that can never be repeated. At first glance, it appears to be completely improvised, or in this case, to happen by chance. However, upon closer inspection, the title of the piece itself indicates structure - 4'33" means 4 minutes and 33 seconds - the duration of time the pianist "performs" this work.
Unlike Chance Music, flamenco is an art form that is improvised based on specific elemental structures. Every melody has its harmony, every compás its rhythm, and every element has its place in time. Each member of the "cuadro" or group of performers should understand his or her role in presenting these characteristics faithfully. This requires both the knowledge and experience resulting from years of study, practice, collaboration, and finally, intuition. The performer must be able to communicate in a seemingly unspoken language in a manner that is contributing to the art as well as to his/her own artistic integrity and interpretation. The desired result is "quality." As in other forms of art, beauty in flamenco is derived by the artist's adherence to a structure while infusing his soul into his work. When this is achieved, each performance is a living work of art.

The understanding of flamenco's vast and complex structure is essential to improvisation. While this knowledge may be innate to some, for most, its comprehension requires time and in-depth study. With dedication, humility, and respect for the art, this can be achieved. It is important to understand that there is not one comprehensive didactic resource concerning flamenco. For those who wish to learn more about the structure of flamenco, I recommend the following books:

Sobre la Guitarra Flamenca - Teoría y Sistema para la Guitarra Flamenca by Manolo Sanlúcar
Teoría Musical del Flamenco by Lola Fernández
El Compás Flamenco de Todos los Estilos by José Mª Parra Expósito
One of the most common misconceptions involving improvisation is - can you practice it? The answer is yes. In order to develop improvisational skills to a level that is clean and precise, it absolutely must be practiced. The next article will begin with a discussion of practicing the art of improvisation.

In May...
Solero Flamenco returns to Dallas as invited artists of the 2010 Dallas Flamenco Festival! This 11 day festival brings together the South West Flamenco Community while exposing Dallas to this wonderful art. Performances include "El Maestro de la Bulería" Timo Lozano, Genoveva, and featured artitsts, with Jeremías García al toque, Chayito Champion and Irma La Paloma al cante.
Details below:
May 29th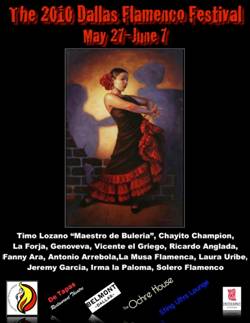 7:30pm
SMU Greer Carson Theater
Flamenco As a Second Language
Featuring Visiting Guest Artists:
Genoveva
Chayito Champion
Elsa Champion
Delilah Muse
Solero Flamenco
Irma La Paloma
Jeremías García
La Forja
May30th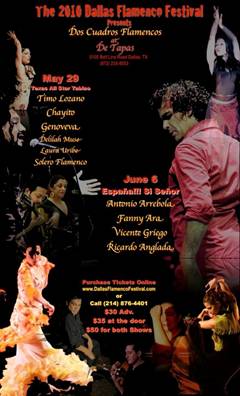 7:30pm
De Tapas Restaurant Theatre
Texas All Star Tablao
Featuring:
Timo Lozano
Chayito Champion
Elsa Champion
Genoveva
Delilah Muse
Solero Flamenco
Jeremías García El Valiente
Irma La Paloma
The festival encompasses a myriad of workshops and performances by renowned artists from Spain and the U.S.
For more information and online ticket purchase visit

In June...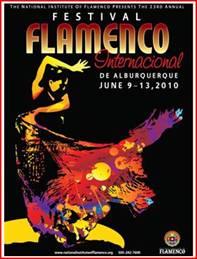 June 9 - 13th
Festival Flamenco International de Albuquerque
After a year of absence, the festival returns at full speed offering workshops in cante, guitarra, baile, and cajón.
Featured artists include:
Manuela Carrasco y Compañía
Manuel Liñan y Compañía Andrés Peña
Pilar Ogalla y Compañía
Juan Antonio Suarez "Cano"
Concha Jareño
For details visit www.nationalinstituteofflamenco.org

June 26th and 27th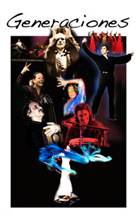 Jo Long Theater
Carver Community Center
San Antonio, Texas
Generaciones
with Timo Lozano, Teo Morca
Houston's Solangel "Lali" Calix
Francisco Orozco "El Yiyi"
José Perello and Tamara Saj
For information visit Generaciones

!Ole! and thanks to all who joined Solero's first Houston celebration of La Feria de Sevilla on April 7th at Mi Luna! It was dancing room only por Sevillanas, laughter, and enjoyment. Many of you have asked if we plan to continue this tradition... !Ole que sí! or !Yes indeed! With enthusiasm and your participation, we look forward to next year's celebration!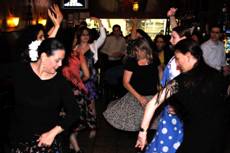 !Dance and celebration!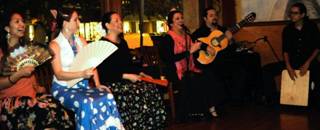 Edith, Alex, Lali, Irma, Jeremías, and Chris
Photos by Lorie Garcia
~~~~~~~~~~~~~~~~~~~~
Thanks and Ole! To Erin Parker's review of Solero Flamenco which you can read by visiting Erin's Guide to Living

~~~~~~~~~~~~~~~~~~~~
!Y Ole! to Ana and Fernán, proud parents of Matías who arrived on April 14th in Mexico. Happy Baby to you!

~~~~~~~~~~~~~~~~~~~~~
!Ole to Paco de Lucía! or Francisco Sánchez Gómez, guitarist and composer born in Algeciras, 1947, who will be the first Spanish author to be awarded an honorary doctorate, "Honoris Causa," by the Berklee College of Music in Boston.
~~~~~~~~~~~~~~~~~~~~~
Our thanks to the Spanish teachers and students of Clear Lake High School who invited us for a day of flamenco fun in their company. It was a pleasure to meet such talented and courteous youth.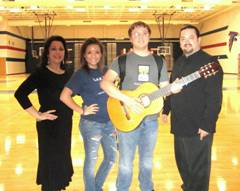 La Paloma and El Valiente

Let us seek the flamenco moment within our reach that we may feel its impact on our soul...
Solero Flamenco